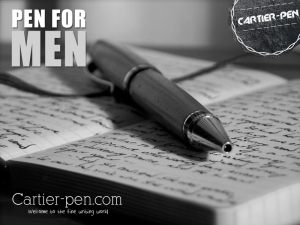 When it comes to buying gifts for men, it might as well be as difficult as finding a needle in a haystack. Whether it is for a father, a brother, a friend or a significant other, we will go through hundreds of things before settling on the one which we think he might like or he might want. But the response we get isn't near close of what we expect. Either the gift isn't treasured or whatever we give is torn down to a point that it loses any emotional or monetary value. To save you from similar gift crisis, we bring to a list of possible pen gifts. For eons now, a pen has been a symbol of education, style and prestige. What could be a better gift than a valuable, stylish pen?
Cross Apogee Black Star Lacquer Ballpoint Pen
The smooth sheen on the black lacquered ballpoint is enough to have anyone's heart slip and spark romance. Cross Apogee Black Star Lacquer Ballpoint pen partners European Lacquer finish and chrome-plated accents to flaunt a flawless body of streamlined style and classic design. Its thick body makes it a pen fit for a man. Also available in other writing modes, you can select the one your man-in-question prefers most.
Caran d Ache Ecridor Chevron Rhodium Fountain Pen
One of the Swiss luxury writing instrument makers, Caran d Ache's name alone is enough to specify how valuable this pen is. But what makes it special enough to be a gift is its meticulous chevron design. The slim body is coated in silver and rhodium, giving it not only a rich finish but strength and longevity as well. The steel nib is plated with rhodium which adds to its performance on paper. Stylish, sleek and sophisticated, this is an ideal pen for a hardworking and fashionable man.
Waterman Expert Deluxe Blue Obsession Ballpoint Pen
Maybe obsession isn't the right word to describe this pen, but it has a definite pull about it. The shiny palladium-plated chiseled cap in contrast to the deep blue lacquered body is exciting. The cigar shaped structure will hold nicely in a big hand and is comfortable to feel as well. For any working man, who uses a pen everyday this pen will prove to the ultimate game changer. Waterman Expert Deluxe Blue Obsession Pen also comes in fountain mode.
Montblanc Meisterstuck Classique 90 years Ballpoint Pen
Show your appreciation towards the men who have always stood strong by your side by gifting him a Montblanc Meisterstuck Classique 90 years Ballpoint Pen. This limited edition pen in its lacquer coated body flaunts a guilloche engraving that immediately stands out and feels nice to the touch as well. Complimented by red gold-plated trims, this makes for an iconic gift for a man who is sophisticated and works hard.
Porsche Design P3115 Laser Flex Ballpoint Pen
If you can't give him a Porche car then give him a Porsche Design P3115 Laser Flex Ballpoint Pen. It is a cool pen, to say the least, with flexible function on its stainless steel body. The body boasts patterns that are created by laser slots. When the button is pushed to write, the barrel responds wherein the slots on it contracts and releases. Like I said, it is a cool pen; cool enough to be a gift for your man. He will love it.
Sheaffer's PFM
Introduced in 1959, the pen is available in five simple color choices: Black, burgundy, gray, blue and green. Accredited a vintage now, the pen was named "Pen for Men" to identify it with the masculine design that was emerging back them. Minimalistic, streamlined and soberly styled, this pen fits any gentleman's profile. Gift it to a man who loves vintage goods and he will be very happy.
Pen Set
If you are lost for gift choices then a decent pen gift set would be ideal for men. These sets usually include cufflinks, fountain pens and ballpoint pens. But for instance, you can also find something like a Cross Black Credit Card Holder & Pure Chrome Stratford Ballpoint Pen Set.
Happy gift hunting!!