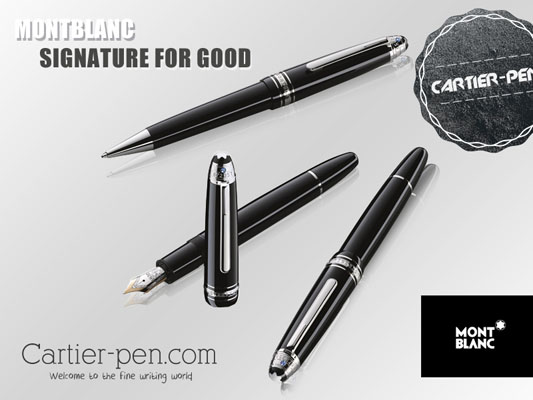 As the leader in the market of writing instruments, Montblanc pens, by default, have been supporting education and literacy. With the Montblanc Signature for Good collection, launched in 2013, the brand made a visible contribution towards the education of children, by donating 10% of every "Signature for Good" product to UNICEF's education programs. With this fund, Montblanc is doing its part to make quality education, including infrastructures accessible for children in the most vulnerable parts of Africa, Asia and Latin America. Montblanc's Signature for Good collection includes writing instruments, jewelry and other leather goodies, all including a special design symbolic of the company's effort.
In this collection, the famous Montblanc Meisterstuck 146 makes a comeback with a few changes in its original design. The usual glossy, black resin body showcases a unique brick design (inclusive in all products of this collection) on the platinum cap-top ring, which is symbolic to building a better future for children. The ring also features a blue sapphire which is inspired by UNICEF's blue color. The nib as always is gold, this time 14kt and the top of the cap bears the usual Meisterstuck emblem. One practical feature added to this collection are the transparent vertical rectangles, which allows one to see the available ink in tank, without having to unscrew the end of the body. For this collection, the pen is available in Meisterstuck LeGrand Fountain pen, Rollerball and Ballpoint pen, and in Meisterstuck Classique with the same three options. Affluent as its other counterparts, the pens in this collection continue to maintain the legacy of the brand in terms of writing. Plus, each of these come in an exclusive black gift box, designed with the symbolic brick-by-brick pattern.
Other items in the collection, such as the handcrafted leather wallets, cardholders, pen pouches and notebook, all hold the special brick design and a blue colored decor. The leather used in this collection is Italian full-grain calfskin, embracing a pattern of a series of diagonal lines. The cufflinks, bracelets and key rings complete the jewelry selection. The cufflinks feature reversible surfaces of polished stainless steel, with a round blue sapphire on one side and smooth, black onyx on the other. The bracelet and the key ring showcases the symbolic brick design and the blue sapphire. Every product has the famous emblem and holds a serial number too.
Overall, the entire collection of Montblanc's Signature for Good is desirable. Add the moral satisfaction of having contributed a sum, no matter how small, with its purchase and to use any of these product is rewarding. It is an investment that you will keep giving you return values every time you decide you use it – in the form of a heartwarming knowledge of having given a child the biggest gift called education.